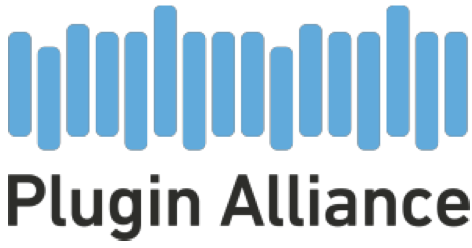 Overview
Plugin Alliance is proud to announce the availability of the new MEGA Bundle Subscription Service. The MEGA Bundle is the new gold standard for subscription based plugin-bundles, offering an impressive collection of 100+ plugins from 28 Alliance brands including SSL, Ampeg, Brainworx, Focusrite and many more shown on the logo cloud below:
The MEGA Bundle is available for $24.99 per month or $249.99 per year, which is a 17% saving over the month-to-month price.
($24.99 x 12 = $299.88 per year // Prepaid Annual plan = $249.99 per year)

The MEGA Bundle contains an ever-growing collection with 100+ state-of- the-art plugins:
Best-in-class TMT console-emulations from SSL, Focusrite and more
Brainworx M/S Mastering tools
Several Virtual Instruments from DS Audio, Brainworx and more
3D mixing from DearVR / Sennheiser
Innovative modular FX from Unfiltered Audio
Dozens of branded and officially endorsed analog-modeled units
Guitar Amps (ENGL, DIEZEL, Chandler…)
Bass Amps (Ampeg…)
EQs (Mäag, SPL, Millennia, Dangerous Music…)
Compressors (Shadow Hills, Purple Audio, Vertigo, ACME, elysia…)
Effects (ADA, Noveltech…)
All these plugins are being offered in multi-platform versions, working on Mac and PC (VST 2/3, AAX and AU). 70+ of our plugins even work on professional AAX DSP systems. Plugin Alliance offers a simple and unified, dongle-free activation scheme, so one activation will give users access to ALL of the tools at once, and every license for the bundle is good to activate up to 3 machines!

A convenient and professional installation manager sums up the system, allowing users to download and install any and all plugins in one go. For specific formats only, or for all formats at the same time.
"It makes me happy and proud to finally be able to offer ALL of our best plugins to a much bigger audience than ever, via a very affordable subscription plan!"

"Today is a very special day for Plugin Alliance, all of our brand-partners and most importantly, for all of the existing and new members of our ever-growing PA family!" says Dirk Ulrich, founder and CEO of Plugin Alliance. "Our partner brands have been developing and releasing dozens of award-winning plugins over the last 12+ years. It makes me happy and proud to finally be able to offer ALL of our best plugins to a much bigger audience than ever, via a very affordable subscription plan. Plugin Alliance is already hosting close to half a Million user accounts and literally Millions of plugin licenses, and we can't wait to see and hear what an even bigger community of audio creators will be able to achieve for their art, whether it's commercial 3D & Surround audio studios, Grammy-winning music producers, or ambitious musicians, DJs and bedroom producers around the globe."

"This is incredible!" says producer, engineer & mixer Romesh Dodangoda (Bring Me The Horizon, Motorhead, Funeral For A Friend etc.). "This is not just a whole studio in the box… this bundle actually gives you access to many different studio consoles and instruments, plus all the outboard gear and amps you need. So many of these plugins are a huge part of my tracking and mixing sessions!"
My perspective on subscription services
I must admit that I have very mixed views on subscription services. The main issue is that most musicians I know do not make much money from their music nor do they have a huge amount of disposable income. Subscription models are gaining popularity seemingly everywhere – TV services and music streaming services are probably the most established but we're seeing an increase in the number of these as well as phone apps and sample / plugin services like Plugin Alliance. Because there's only so much money available this limits how many services you can sign up to and then you're tied into specific brands or products.
That said, you don't have to subscribe, you can still purchase plugins individually and Plugin Alliance regularly offer discounts and sales on their plugins through their mailing list. However, if you purchase 2 or 3 plugins a year then the subscription service is by far better value for money and to be honest in these circumstances, a no brainer. I also like how Plugin Alliance are continually adding new plugins to the mega bundle.
The Plugins
Plugin Alliance have a huge number of great sounding plugins that I'm certainly not going to do justice to in the following few paragraphs. The range is outlined above and I've previously reviewed SpecOps, Stage and bx_console-E (this was subsequently replaced).
The continual addition of new plugins is an excellent feature. For example, when the subscription service launched in July 2019, 6 new plugins were added, namely namely, Shadow Hills Mastering Compressor (https://www.plugin-alliance.com/en/products/shadow_hills_mastering_compressor.html);
Brainworx bx_console Focusrite SC (https://www.plugin-alliance.com/en/products/bx_console_focusrite_sc.html);
Ampeg V-4B (https://www.plugin-alliance.com/en/products/ampeg_v4b.html);
ProAudioDSP DSM V3 (https://www.plugin-alliance.com/en/products/pro_audio_dsp_dsm_v3.html);
Diezel VH4 (https://www.plugin-alliance.com/en/products/diezel_vh4.html) and
Purple Audio MC77 (https://www.plugin-alliance.com/en/products/purple_audio_mc_77.html)
They have since added a further 9 with more to follow.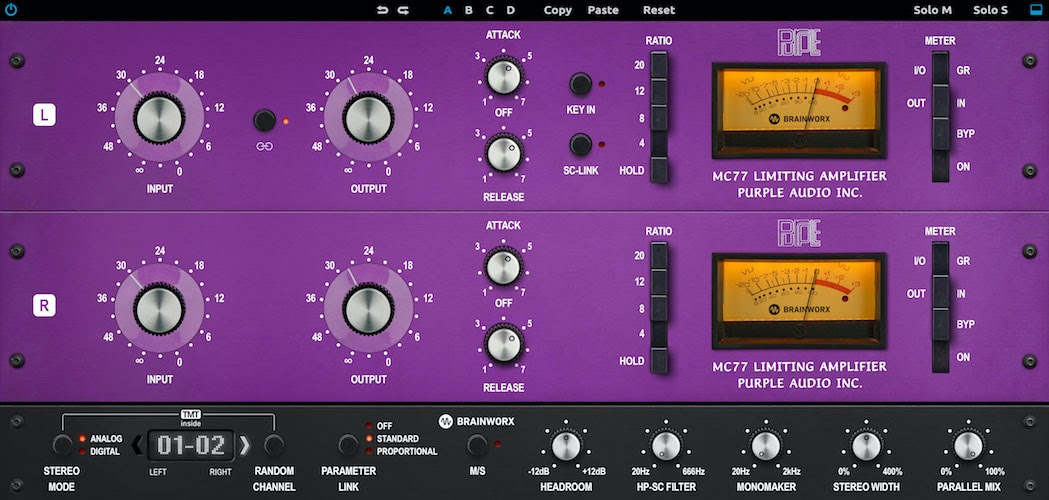 Purple Audio MC77
The 1176 is one of the most popular hardware compressors of all time, first introduced in 1968. Roll forward to the late nineties and Purple Audio created an exacting recreation of the "E" revision. From there, all modern, high performance components were used to match the unit to the original to create a flawless, discrete signal path.
This is a software recreation giving you access to the same unrivaled functionality and lightning-fast response as the original 1176. As with many previous products, Brainworx didn't stop after finishing the pristine emulation. Additional plugin-only features like patent-pending TMT (Tolerance Modeling Technology, which effectively gives you many different analog units of the MC77 in one plugin), onboard M/S processing, a high-pass side-chain, Brainworx mono-maker and a stereo width control make this compressor all the more powerful and customizable and there's also a dry/wet control that makes it very easy to use the MC77 in parallel setups.
You have input, output, attack, release controls. There are four compression ratios – 4:1 8:1 12:1 20:1 with a hold button to create combinations of these and if you turn the attack off this disables the compressor and allows you to use the MC77 as a saturation plugin. There are also metering controls for both left and right channels.
There's a handy link button that links the input to the output to maintain a constant volume, a key-in button that sets the input to an external side-chain signal and an SC-Link button that links the sidechains of the left and right channels in stereo mode so both channels are compressed by the same amount.
The controls at the bottom have been added by Brainworx. The TMT module takes the real-world tolerances of audio components found in audio circuits into account and offers various channels of analog audio which have realistic variances in frequency response, time constants in dynamic sections, etc. The result is digital audio that sounds as analog as possible, whereas even the L/R channels of a stereo instance will react slightly different. You have 20 different channel strips and you can use the same channel for both units or two adjacent channels. You can also randomise these.
You can disable parameter link so that you can process each side separately and there's also a button to engage mid/side processing. The headroom control acts like a threshold, high pass sidechain filter, stereo width and parallel mix.
What I like about the MC77 is that it sounds excellent on pretty much anything you feed into it. Drums, vocals, keys, guitars can all be processed in many different ways – grit / saturation; warmth and depth, tonal shaping – it's easy and quick to use too. It will benefit any mix, adding dynamics and improving the sound.
Shadow Hills Mastering Compressor Class A
This is the most recently added plugin.
Available exclusively via Plugin Alliance, and enhanced by Brainworx with patent-pending TMT and more, we are happy to add this plugin to the growing line of Shadow Hills plugins. The Shadow Hills Mastering Compressor Class A Limited Edition is one of the most exclusive and powerful compressors ever built. Vintage King released the Class A in 2012, limiting production to only 50 units!

The VCA section is much punchier on this version. Brainworx added even more features to the emulation of the already modded hardware version. The RED version is punchier, faster, and more versatile than the GREEN.

With the limited edition, Shadow Hills Industries included an updated Class A discrete compressor section utilizing Lundahl input transformers as well as hand wiring each compressor with Mogami Cable, an important factor when Brainworx Audio modeled one of these limited units as it gave the limited edition version a different character to the original.

During rigorous shoot-out tests against the Shadow Hills Industries Mastering Compressor, our pro audio engineers observed time and time again that the Class A features a smoother compression sound, punchier VCA, a more pronounced sonic dimension, and overall larger size and perceived depth. Another interesting difference between the Shadow Hills Industries Mastering Compressor and the Class A version is that with the gain set to identical values on both units the Class A version clocks in roughly 1 to 3 dBs higher, matching the emulated hardware, and, as a result, delivers a thicker and richer tone to whatever is running through it.

For this limited edition, Brainworx included its well-known retractable Extra Unit. The BX Extra Unit provides the following features: Brainworx's TMT (patent-pending Tolerance Modeling Technology), M/S processing, Mono-Maker, Stereo Width, Parallel Mix, Sidechain Filter, continuously variable 12 dB per octave high pass filter, and a Headroom parameter.

Visually, this version can also be distinguished by red LEDs on the front panel versus the green ones found on the Shadow Hills Mastering Compressor — GREEN for the Drum Buss, RED for the Master!

Added to the MEGA Bundle at no extra cost.

Shadow Hills Mastering Compressor Class A is available for purchase (as an AAX AudioSuite-, AAX DSP-, AAX Native-, AU-, VST2-, and VST3-supporting plugin for MacOS 10.9 through 10.14 and Windows 7 through 10) at an attractive introductory price of $199.99 USD — rising thereafter to an MSRPof $329.00 USD — from here: https://www.plugin-alliance.com/en/products/shadow_hills_class_a_mastering_comp.html (Upgrade for GREEN version owners: If you already own the green Shadow Hills Mastering Compressor, you'll get the new RED edition for $99.99 USD.)

A fully-functional, 14-day trial of Shadow Hills Mastering Compressor Class A is available to anyone registering for a free Plugin Alliance account here: http://www.plugin-alliance.com/en/registration.html
Shadow Hills Mastering Compressor Class A is included in Plugin Alliance's monthly MEGA Bundle subscription (https://www.plugin-alliance.com/en/products/pa-mega-bundle-monthly.html) and annual MEGA Bundle subscription (https://www.plugin-alliance.com/en/products/pa-mega-bundle.html) at no extra cost!

Note that the proprietary Plugin Alliance Installation Manager means users can select, download, and install only the products and formats needed for their system. For more in-depth information, including several superb-sounding audio demos, please visit Plugin Alliance's dedicatedShadow Hills Mastering Compressor Class A webpage here: https://www.plugin-alliance.com/en/products/shadow_hills_class_a_mastering_comp.html